In the gift printing industries, transfer paper is an important medium used to transfer the image and craft to the gift product. When choosing transfer paper, you need to differentiated the uses. There are transfer paper specifically for dark and light garments (dark based transfer paper and light based transfer paper).
Besides that, you also need to know about the ATT brand transfer paper and China brand transfer paper. Although both functions the same way, which is for transferring designs and images to dark or other coloured garments and substrates including T-Shirts, caps, mouse pads, leather, and along with other garments, but ATT and China transfer paper have different results.
ATT transfer paper is made from paper, due to this factor it can be cut using the cutting plotter. After printing the image on to it, the colour intensity of the image also seem to be less vibrant and somewhat dull. However once heated with a heat press machine, the colour of the image turns out sharp and vibrant. Using ATT transfer paper, you can wash the printed garment many times without effecting the colours.
Compared to ATT transfer paper, China brand transfer paper is made out of rubber. Because of that the material is unable to be cut using the cutting plotter. Moreover, the colour of the image is great once printed onto the paper and after the process of heat transferring using the heat press machine. The downside to it is that the colours on your printed garments fade away much easily once you have washed it.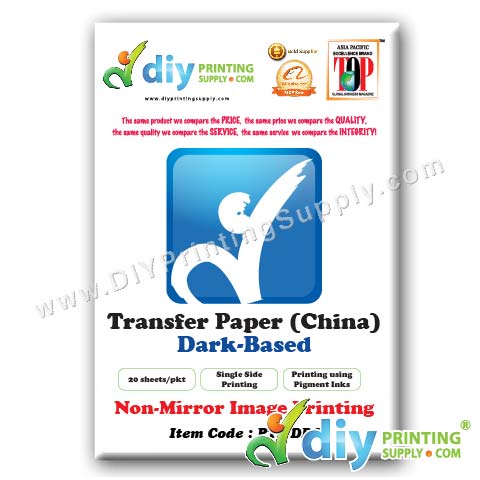 ♦ Find out more information and seek advice from our customer service, contact us here.
♦ Purchase quality transfer paper, click here.
♦ Need a starter package that is complete? click here to start.